Reseña del libro "Ceramics and Society. A technological approach to archaeological assemblages" de Valentine Roux
Resumen
Reseña de libro: Ceramics and Society. A Technological Approach to Archaeological Assemblages (Springer, Switzerland, año 2019), de la autora Valentine Roux en colaboración con Marie-Agnès Courty.
Descargas
Los datos de descargas todavía no están disponibles.
Citas
Arnold, D. E. (1985). Ceramic Theory and Cultural Process. Cambridge: Cambridge University Press.
Dickinson, W. R., & Rich, E. I. (1972). Petrologic Intervals and Petrofacies in the Great Valley Sequence, Sacramento Valley, California. Geological Society of America Bulletin, 83, 3007-3024. https://doi.org/10.1130/0016-7606(1972)83[3007:PIAPIT]2.0.CO;2
Druc, I. & Velde, B. (2021). Ceramic Materials in Archaeology. Blue Mounds, WI: Deep Education Press.
Heidke, J. M. & Miksa, E. J. (2000). Correspondence and Discriminant Analyses of Sand and Sand Temper Compositions, Tonto Basin, Arizona. Archaeometry, 42, 273-299. https://doi.org/10.1111/j.1475-4754.2000.tb00882.x
Lombard, J. P. (1987). Provenance of Sand Temper in Hohokam Ceramics, Arizona. Geoarchaeology, 2, 91-119. https://doi.org/10.1002/gea.3340020201
Mansfield, Ch. F. (1971). Stratigraphic Variation in Sandstone Petrology of the Great Valley Sequence in the Southern Coast Ranges West of Coalinga, California. Geological Society of America Abstracts with Programs, 3, 157.
Mason, R.B. & Keall, E. J. (1990). Petrography of Islamic pottery from Fustat. Journal of the American Research Center in Egypt, 27, 165-184. https://doi.org/10.2307/40000079
Miksa, E. J. (1998). A Model for Assigning Temper Provenance to Archaeological Ceramics with Case Studies from the American Southwest. Unpublished Ph.D. dissertation, Department of Anthropology, University of Arizona, Tucson. https://doi.org/10.1002/1520-6548(200102)16:2%3C177::AID-GEA1001%3E3.0.CO;2-T
Miksa, E. J. & Heidke, J.M. (2001). It All Comes Out in the Wash: Actualistic Petrofacies Modeling of Temper Provenance, Tonto Basin, Arizona, USA. Geoarchaeology, 16, 177-222.
Orton, C., Tyers, P. & Vince, A. (1993). Pottery in Archaeology. Cambridge: Cambridge University Press.
Quinn, P. S. (2013). Ceramic Petrography: The Interpretation of Archaeological Pottery & Related Artefacts in Thin Section. Oxford: Archaeopress Publishing Ltd. https://doi.org/10.2307/j.ctv1jk0jf4
Reedy, Ch. L. (2008). Thin-section Petrography of Stone and Ceramic Cultural Materials. London: Archetype.
Roux, V. & Courty, M. A. (2005). Identifying social entities at a macro-regional level: Chalcolithic ceramics of South Levant as a case study. En A. Livingstone Smith, D. Bosquet, and R. Martineau (Eds.), Pottery Manufacturing Processes: Reconstitution and Interpretation (pp. 201-214). Oxford: BAR International Series, 1349. Archaeopress.
Rye, O. S, (1981). Pottery Technology. Principles and Reconstruction. Manuals on Archeology 4. Washington: Taraxacum.
Sinopoli, C. M. (1991). Approaches to Archaeological Ceramics. New York: Springer US. https://doi.org/10.1007/978-1-4757-9274-4
Velde, B. & Druc, I. (1999). Archaeological Ceramic Materials. Origin and Utilization. Berlin, Germany, & New York: Springer-Verlag. https://doi.org/10.1007/978-3-642-59905-7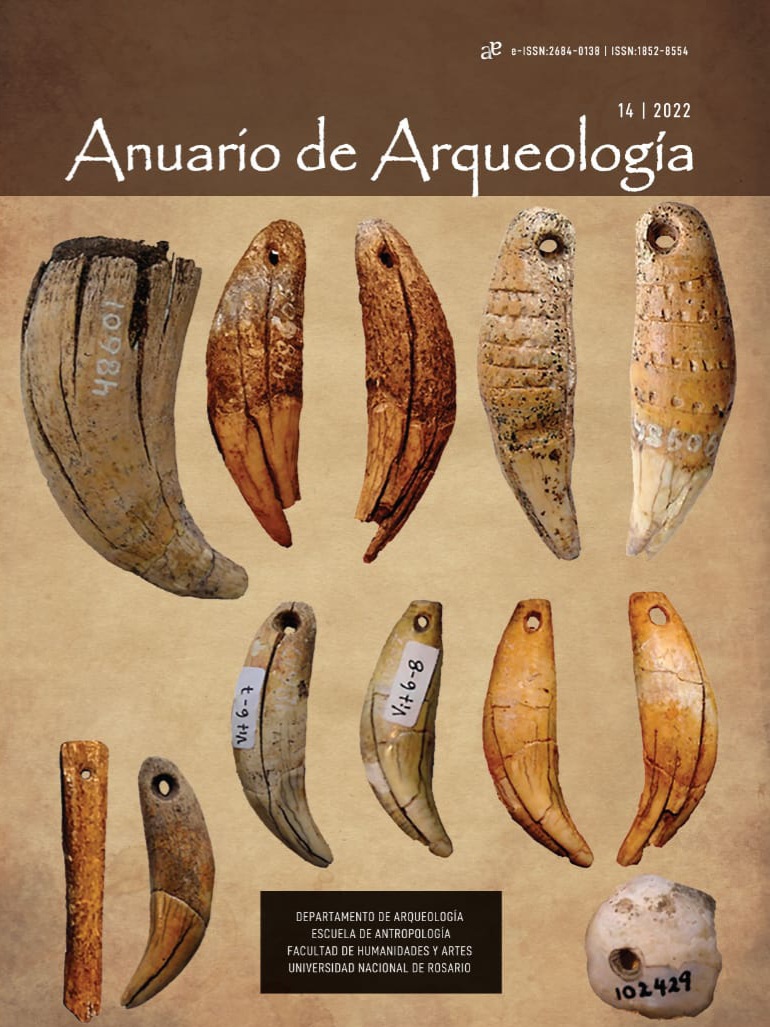 Descargas
Cómo citar
Ownby, M., & Druc, I. (2022). Reseña del libro "Ceramics and Society. A technological approach to archaeological assemblages" de Valentine Roux . Anuario De Arqueología, 14(14). https://doi.org/10.35305/aa.v14i14.98